Dance Synchronizator v. 3.7
Required ADOBE® AIR®.
Dance Synchronizator (installer).
Warning!!!
It's experimental mod. There no warranty that it will works at your own computer!!!
Download and install it on your own risk!!!
Download DS Installer v. 3.7
DS Installer interface.

Changes.
-Update BHV files. There no reasons to update behavior files if you not use FNIS mods. At that case, it will takes few seconds to copy required files without update.
-"Credits" - Credits and thanks to authors of music and animations with videos. Like it was in DS light.
-On/Off full screen mode.
-Elin Bard & BeArserk no more required Installer. All animations are wrote in these bhv files. Similar for Animated Fishing mod.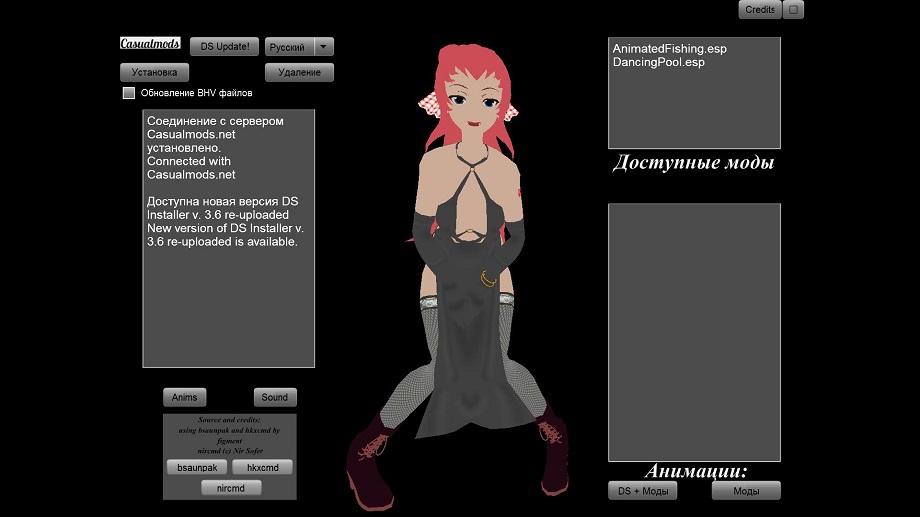 -It's multilanguage mod, and use localization files "Strings" (see video "Installation"). Translation this mod to other languages is possible only by "Skyrim String Localizer" and similar soft.
-Ability to add plug-ins. For example you can download and install "Dancing Pool" - adds to DS new location as Dancing Hall. Dances from Dance Collection1 of DS v. 3.6 are includes here and no need to install.
-Added MCM menu with ability to rebind hot keys and duplicated some functions from Options menu.
-Added Group Manager, makes possible to edite your current dancers positions etc.
-Added "Auto-dance". You can dance single, now.
-You can choose dancing hall. (only from other mods)
-The choice of dances and camera's motions are arranged in alphabetical order.
Required:
SKSE last version
SkyUI
1. Download and install DSInstaller v. 3.7
2. Start DSInstaller.
If it's first installation go to step 3. Else remove old version - press "Uninstall". Open by wordpad file: "User Name/AppData/Local/Skyrim/plugins.txt". And remove all strings of DS and its mods - DanceSynchronizator.esm, DanceSynchronizator.esp, DSAnimation.esp, DSSound.esp, DanceCollection.esp ets. Remove old BSA archives DSAnimation and DSSound too, no keep them in Data folder.
3. Choose installation language (not affect to localisation language). т). If you're using FNIS mods or other modifed bhv files, check "Update BHV files".
4. Press "Install", then follow the instructions in the log window. At the finish, DS Installer will check your Strings folder and you'll have to choose your game's localization language. If your language is not presents in combo box, please write your localisation manually.

Warning!!! For example: If you're playing chinese version of Skyrim, you have to choose chinese localization, if english - to english... and similar for any other languages. Any other localisation languages will crash your game at start.

About localization strings. How it works.
During installation, DS installer looking for Skyrim_XXXX.(DL)(IL)STRINGS files in Data/Strings folder. It's could be empty for basic Skyrim languages (English, German, French, Italian, Spanish) in that case you'll have to choose your language in combo box or write manually. For all other languages Data/Strings folder must containes files Skyrim_(your localization language).(DL)(IL)STRINGS. In case, if you're making localizations and keeps there few other localization files, all of them will adds into combo box.

When language is choosen, DS Installer looking for localisation strings in DS Installer/source folder, and if not find choosen language get english strings and rewrite them as your localization. It works similar for mods too.

Downloading of required bsa archives will starts automatically after installation. Also you can download these files manually (buttons Anims and Sound). Next you have to unpack archives and copy/past into Data folder.

Warning!!! DS v. 3.7 use new DSAnimation.bsa, DSMisc.bsa (single archive) and DSSounds.bsa, you have to download them again.

These files must be in your Skyrim/Data folder after installation.

DanceSynchronizator.esm
DanceSynchronizator.esp
DSAnimation.esp
DSSound.esp
DSMisc.esp
DanceSynchronizator.bsa
DSAnimation.bsa
DSMisc.bsa
DSSound.bsa

Behavior files:
Data/meshes/actors/character/_1stperson/behaviors/mt_behavior.hkx
Data/meshes/actors/character/_1stperson/characters/firstperson.hkx
Data/meshes/actors/character/behaviors/mt_behavior.hkx
Data/meshes/actors/character/characters/defaultmale.hkx
Data/meshes/actors/character/characters female/defaultfemale.hkx

Strings & translations files:

Data/Strings/DanceSynchronizator_XXXX.DLSTRINGS
Data/Strings/DanceSynchronizator_XXXX.ILSTRINGS
Data/Strings/DanceSynchronizator_XXXX.STRINGS

Data/Interface/Translations/DanceSynchronizator_XXXX.txt

5. Look in launcher or Mod Manager does these .esp and .esm files are pluged?
6. Start the game by SKSE. Please check, how DS database been installed. If It's OK the next string in console, must start a dance with sound.

"~", ckick to any NPC, PlayIdle RSVAitakattaSIdle, "Enter"

7. Making sure that everything works as it should.

Warning!!!
If you're using FNIS, every times you'll use FNIS for Users, you'll have to reinstall Dance Synchronizator by DS Installer, at the other case FNIS will delete all required strings from defaultmale.hkx and defaultfemale.hkx files.
Press button "Uninstall". From this version DSInstaller removes all files related to the DS. So you'll have to reinstall all your mods which using FNIS.
-Download mod you need and click to SFX archive. (in fact it is made only for convenience, you can simply place the files from the archive into folder DS Installer/DSMods).
-Start DS Installer.

Mods for DS are consist of files esp (displayed in "Availabe mods"), bsa and three localisation files. Possible a text file with additional animations (displayed in "Animations") at that case you have to set "Update BHV Files" before start installation.

-Go to 2. of DS installation.

There is no difference when you add mods into DSMods folder. Installing and reinstalling of DS, with and without mods, there is the same. Additional animation can be added at any time. Installation is simple to upgrade your current behavior files.

Uninstallation, in addition to deleting the Dance Synchronizator, will also removes from game all mods from DSMods folder.

First load your saved game, save this one and load again. There old standard bug of Skyrim - if you'll not re-save current savegame, you'll can't use new dialogs options.
There no more Massege boxes for camera or dance choosing. All these choises are in real time as dialogs now.
Hot keys: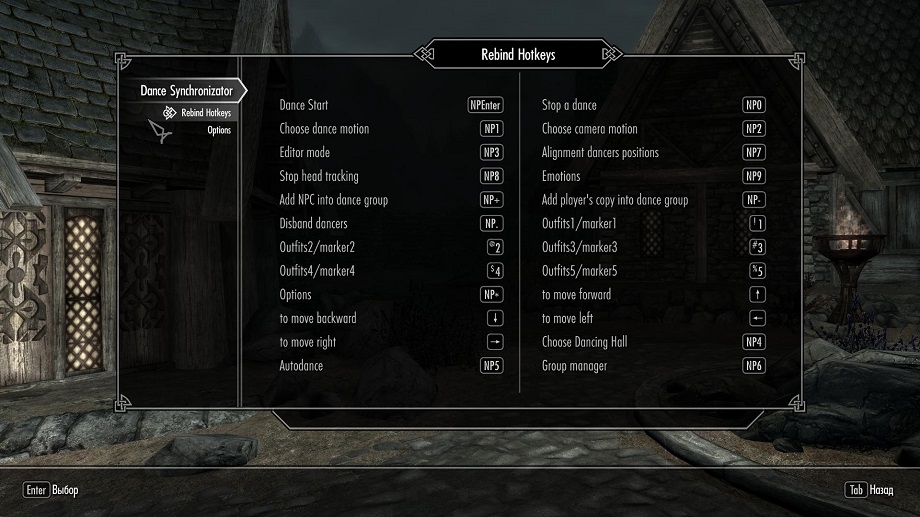 All these hotkeys could be rebind. It's default hotkeys here.

NumEnter - Start and restart dance motion.
Num0 - Stop a dance.
Num1 - Choose dance motion.
Num2 - Choose camera motion.
Num3 - Reset and alignment NPC, without animation(sound will continue playing). Please note, all group dances are plays from single position point. All NPC must stand in one position, when Num3 pressed. If you can't align them. So there may be some cases:

a). Uneven floor, click Num0 and choose a more flat area.
b). Standing next to and walking near NPCs and object can break thay positions. It's may be yourself. In particular player position for Po Pi Po camera. At that case try to do a few steps forward and press Num3.

Num4 - Choose Dancing Hall.
Num5 - Autodance. You'll dance by yourself (required allow dialogues).
Num6 - Group manager. Manage your dancers.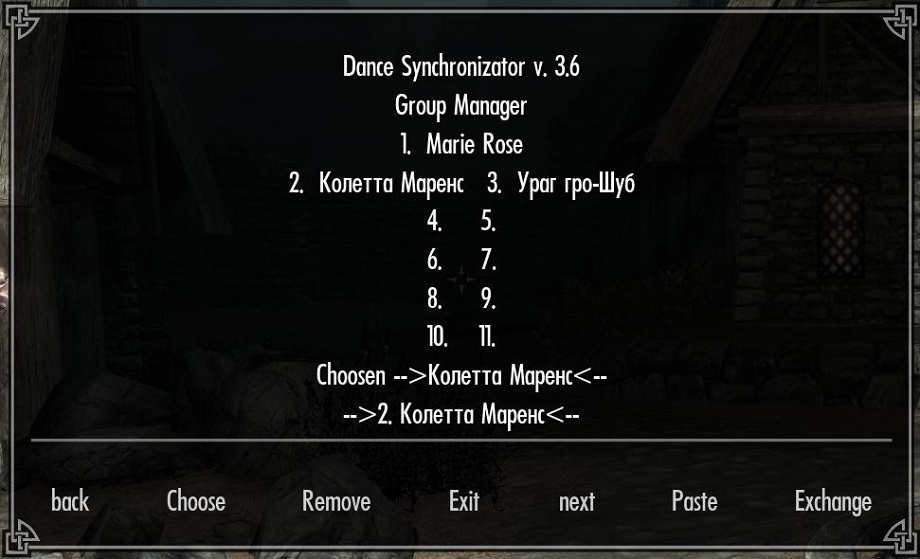 Manual -
"next/back" - navigation group.
Choose - Choose an Actor from navigation string.
Paste- Paste choosen actor into specified place, removing old actor.
Exchange - Exchange choosen actor with actor from navigation string.
Delete - Removes actor from group.

Num7 - Alignment dancers positions without reset animation.
Num8 - Stop head tracking.
Num9 - One by one plays facial animation on dancers.
Num+ - Add NPC into dance group (no more then 11. All 11 characters you may use only for three dances "Help Me!! (11), "One Two Three"(10) and Begginer(11), at all other cases mod will use 5 dancers).
Num- - Add player into dance group.
NumDel - Disband dancers.
1, 2, 3, 4, 5 - Dancer's outfits for 1, 2, 3, 4, 5 dancers.
LShift + 1, 2, 3, 4, 5 - Dancer's outfits for 6, 7, 8, 9, 10 dancers.
RShift + 1 - Outfit for 11th dancer.
Small recommendation: After you start the dance "NumEnter", time to time press key "~" for few seconds. It makes possible wait while Skirim loads delayed animations.
While dancing:

Arrows - to move 1st dancer.
Arrows + L Shift - to move 2nd and 3rd dancers.
Arrows + R Shift - to move 4th and 5th dancers.

Markers:
If you'll press 1,2,3,4,5 keys while dance is playing, It wil Set/Reset "marker" on the dancer(flame shader). Marked dancers will moving by Arrow keys, default controls of dancers moving will be off.
Num7 - Moves dancers to default position.

Options mode: Num*

Load Screens - on/off load screens with vocaloids.
HDTFix - Fix breasts, butt etc. phisics motions, if you're using extra skeleton and HDT.
Dialogue - On/Off dialogue functions.
Dancing Hall - Start dance in Dancing Hall, similar as it was in DS light.
Statue - You can choose statue of Vocaloid for Dancing Hall.

Dialogue functions.

Allow this mode in Options by Num* or by MCM.
You may to ask almost everyone in Skyrim to dance for you or with you (only single dances).
To stop dance - press Num0 or go away > 500 points from NPC.

Function "Autodance" Num5 availeble only in this mode.

Dance Me - NPC will dance for you.
Let's dance - You'll dance with NPC.
TheFigment - hkxcmd 1.4, let you edit behavior files.
Fore - some lessons of works with behavior files.

あひる@anatroccolo, ume_no_okayu10, Pikari(キンゴサンガP), rei, ごしかん, くつしたP, ボカペラP, 20yen, MotionMakerDiva, Kiyo, DONKEY, TyuRaRa55, redstone222, keeprefrigeratedful, Arakabu, わさび, b_narita, ネイ, tttppo, nei1st, Setsuna, 背中P, susuki, くきょ@せっきょんさん(せっけんP), tweekcrystal & vladshk, nabca, りゅう, hicri and all others authors of motion data for Miku Miku Dance who's names I didn't find.

Great thanks for help in making Dance Synchronizator from times of TES4: Aflos, Arakabu, JDi, Setsuna, Sizustar, Kasprutz, all anonimus from SHY(Shadows Hide You).jp and especially Umpa.


10/06/2016
RSV